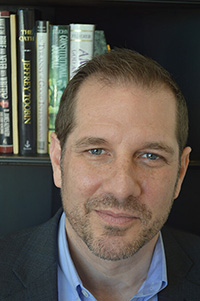 Nathan A. Olin is an employment law and civil litigation specialist. His nearly three decades of legal experience comes from the private sector, the federal government, and institutions of higher education.
Nate graduated magna cum laude from the University of Mount Union, where he received a full academic scholarship, was chosen Outstanding Senior Man, and elected President of the Student Senate. He then received his juris doctorate from Northeastern University School of Law, where he served as a Head Teaching Assistant.
Nate served over a decade as the only career law clerk employed by the United States District Court for all of Western Massachusetts. During those years, virtually every federal criminal and civil matter originating in Hampden, Hampshire, Berkshire, and Franklin counties flowed through the chambers where Nate worked.
Before that, Nate was an attorney in the Trial and Appellate section of Robinson & Cole, LLP in Hartford, Connecticut. During law school, Nate interned full time at both the United States Attorney's Office (Organized Crime Drug Enforcement Task Force) and the Environmental Protection Agency (Region I Counsel's Office) as well as at private law firms in Washington, D.C. and Boston.
For approximately six years, Nate was the founding partner of a Western Massachusetts law firm where he specialized in assisting employees (and select employers) in discrimination, whistleblower, consumer protection, and wage-and-hour disputes. Nate also has a niche practice representing employees of schools and academic institutions.
Nate has a diverse trial-focused practice. He has successfully litigated major class actions at the United States District Court, regularly appears in both federal courts and the Massachusetts Superior and District Courts, represents clients at the Massachusetts Commission Against Discrimination, the Connecticut Commission on Human Rights and Opportunities, and the Equal Employment Opportunity Commission, and participates in numerous contested hearings at the Department of Unemployment Assistance. In addition, he mediates grievances and helps negotiate major settlements.
Nate was specially retained by the United States Department of Justice to represent five current and former federal employees in a complicated qui tam litigation in the federal trial and appellate courts. In another complex matter, involving the constitutionality of beer franchising laws, Nate was appointed as Special Counsel to the Commonwealth of Virginia and the Office of Attorney General.
University of Mount Union, BA Magna Cum Laude (1991)
Northeastern University School of Law, JD (1995)
Commonwealth of Massachusetts
State of Connecticut
United States Court of Appeals for the First Circuit
United States District Court, District of Massachusetts
United States District Court, District of Connecticut
Professional Associations
In addition to working as a lawyer, Nate writes, lectures and has taught numerous classes at Bay Path University. Nate has led classes at law schools and other institutions. He has also been a panelist at multiple state and federal court seminars and can be seen on Western Mass News Legal Line.